Students Get Ready to Learn and Grow into Your Future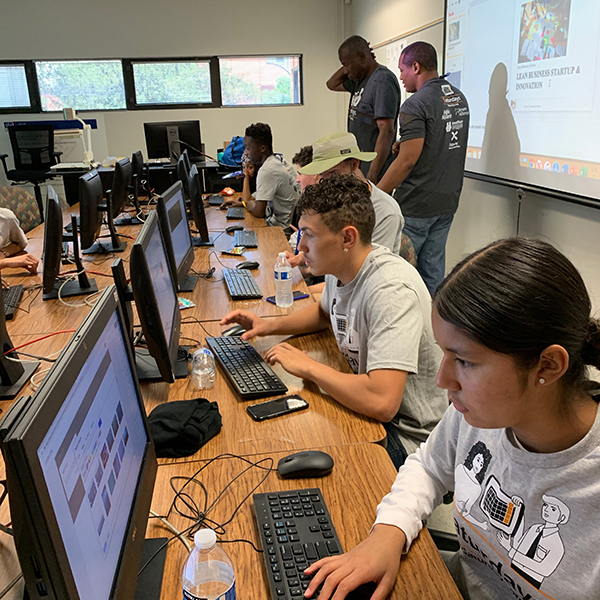 In the 5 Saturdays' workshops, students receive learning experiences that open the door to a career in technology and business. It is a Science, Technology, Engineering, Agile, and Math (STEAM) program that emphasize agile project-based learning that encourages students to embrace self-directed innovations.
Goal:
At the conclusion of the 5 Saturdays' workshops, students are able to:
Develop a resume and interview skills
Demonstrate leadership and communications skills
Collaborate with team members to develop a self-organized project
Excel in a project-based environment
Practice Agile, Business, and Technology concepts
Increase personal confidence to succeed
Apply new skills that are transferable to high school, college, and work
Benefits:
Learn and apply 21st century skills for your future
Learn how to code
Learn skills to be an entrepreneur
Build capabilities for career development
Become a design thinker to create new products or services
Now Let's Focus on the Career Development Courses
Own what you want to learn.  Define what you want to learn and verify if you achieved what you wanted to learn. The Continual Learn Journey Map (CLJM) and Continual Learning Review and Action (CLRA) canvas is tool to help you to self-organize your learning desires.
Tell your story with a resume.  Learn the skills to be effective in a job or college entrance interview.  This is a must have skill if you are seeking a job.  Good communications skills are priceless.
Entrepreneurs are the cornerstone of the business world.  In this course you will learn how to validate a business idea prior investing time and money without knowing there are customers willing to pay for your innovation.  The concepts in this course is based on the lean startup framework and lean business canvas that has transformed how to validate startup companies.  The second part of the course introduces the financial skills needed to run a business.
Learn the foundations of coding using MIT Scratch and Python to lead the Agile Software Development workshop.
Learn the foundations of the Agile Scrum practice.  The concepts introduced in this course is based on the Scrum Guide.
The Agile retrospective is a practice used by teams to reflect on the present way of working and to continually improve how they work and collaborate.