Job Readiness, Resume Building, and Interview Skills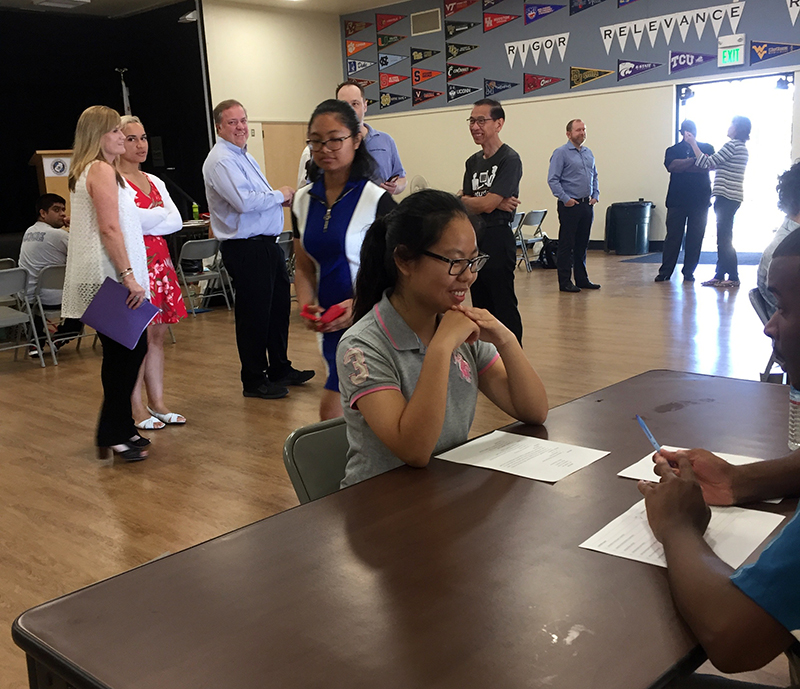 The job readiness & effective communications learning experience provides the basic skills to develop a resume and techniques for a job or college entrance interview.  The key to a successful interview is being prepared.  The only way that you will be able to complete a 10k race successfully is to practice and be prepared.  Competition for jobs and college entrance is high and your success is dependent on how well you prepare for each interview and the quality content of your resume.
The core learning experiences of this module includes the following:
Resume purpose
Resume sections
Resume development planning using Kanban Board
Effective communications:

Handshake
Eye contact
Listening skills
Elevator speech
Gestures

Retrospective
Speed Interviewing
With each Lesson, you incrementally learn new techniques.  At the conclusion of this learning experience the students are equipped with the skills needed to develop a resume and perform at a high level during a job or college entrance interview.
Please note: Your must be a registered user to access our courses.  If you are not a registered user, please register, then sign into the site with your credentials.
| Module 1 | Resume Development, The Handshake, and Facial Expressions |
| --- | --- |
| Unit 1 | Planning your resume with Kanban |
| Unit 2 | Resume Writing - Contact Information |
| Unit 3 | Resume Writing - Education |
| Unit 4 | Resume Writing - Objective / Summary |
| Module 2 | Listening Skills |
| Unit 1 | Listening Skills Introduction |
| Unit 2 | Resume Writing - Objectives |
| Unit 3 | Resume Writing - Your Experiences |
| Unit 4 | Communications |
| Unit 5 | Active Listening |
| Unit 6 | Intentional Listening |
| Module 3 | Elevator Pitch |
| Unit 1 | Job Search and Resume Review |
| Unit 2 | Elevator Pitch Introduction |
| Unit 3 | Practice Your Elevator Pitch |
| Module 4 | Body Language and Gestures |
| Unit 1 | Resume Review |
| Unit 2 | Gestures |
| Unit 3 | Pulling It All Together |
| Unit 4 | JREC Survey |